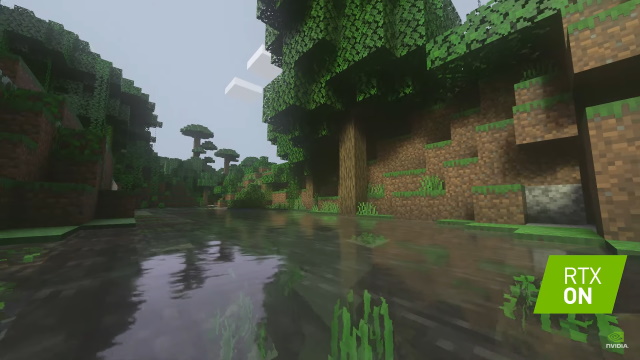 Nvidia just revealed Minecraft new block building with a brand new trailer that came out this Monday.
IGN notes that this trailer shows the before and after-effects of the Nvidia raytracing features.
Also, there are a few thoughts on this update by the Minecraft's development team.
In the trailer, there are various locales that get the RTX treatment on Windows 10 and these include "vibrant homes, glistening lakes, darkened tunnels full of glowing lava, and expansive caves with light filtering in from cracks above."
The online publication mentioned above also notes that the raytracing will include "enhanced lighting, reflections, and shadows across the world, putting more depth and quality into the classic blocks that retain the same assets, but with better looking textures all around."
It's been also reported that Nvidia mentioned that everything would be moddable in order to benefit the gamers.
This is great news especially after a recent announcement has saddened players.
Minecraft ditches the Super Duper Graphics Pack 
The sad announcement is that BBC revealed that Minecraft ditched the plan. The website notes that Mojang dropped development on what was known as the Super Duper graphics pack for the game.
This graphics pack would have given the game realistic textures, lighting effects, and all-round better graphics.
BBC noted that the pack has proved "too technically demanding" so it has been ditched.
Minecraft's official notes say that will make a lot of players sad say the following:
"We realize this is disappointing to some of you – there was a lot of enthusiasm for Super Duper from inside and outside the studio – but unfortunately, we aren't happy with how the pack performed across devices."
Mojang continued and said: "For this reason, we're stopping development on the pack, and looking into other ways for you to experience Minecraft with a new look."