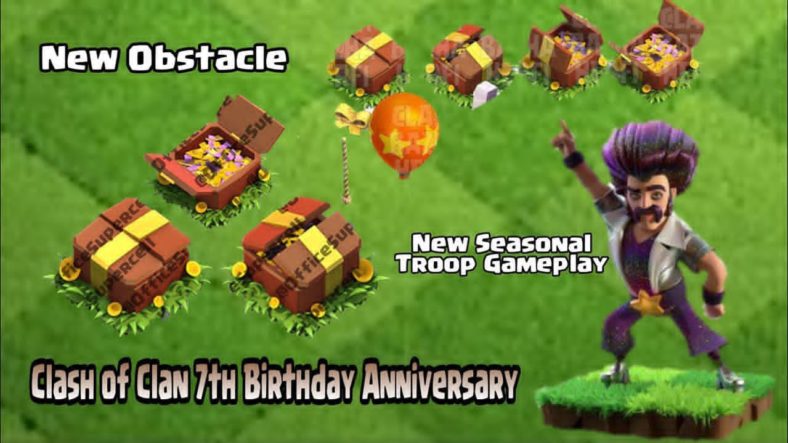 If you're wondering what mobile gamers will be getting from Supercell this year, well, you've come to the right place to find out.
Gamerevolution reveals the Clash of Clans 7th Anniversary guide, which is detailing what gamers can expect to see in the upcoming COC event that will be celebrating the success of this mobile game.
This has been going strong for seven years, and Supercells doesn't want to disappoint its fans, that's for sure.
There's a notification that just popped up and let players know that this year's anniversary event is just a few days away.
Speculation about new content
Even if the online publication doesn't say for sure what the exact content will be, they still have some idea on what to expect.
AllClash reveals that a notification for an upcoming event has surfaced.
It reportedly includes a teaser for new content that gamers can expect to see for this year's anniversary celebration.
Obstacle
The 7th Anniversary obstacle seems to be a brown gift box with a yellow ribbon, according to the online publication mentioned above.
"Opening the obstacle will give the player 50,000 Elixir and the nice cosmetic effect of a balloon floating out from it," they write.
Troop
The Party Wizard is busting pout for 2019's CoC 7th Anniversary and this new troop, "uses a sort of disco theme with a hairstyle that seems like a combination of a pompadour and an afro, a white vest, and flared pants."
It's been also reported that the Party Wizard will have the same level as the standard wizards.
Skin
The online publication notes that the Anniversary Skin has no imagery sofar, but they also note that AllClash has speculated the fact that gamers will get a Party Warden which is "a Grand Warden that shares a party theme with the other items coming out this year."