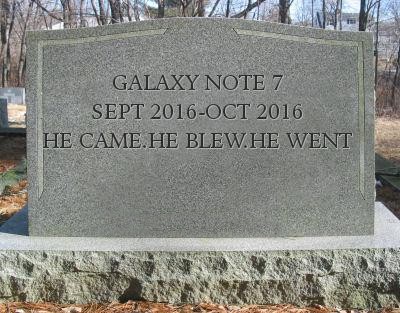 Samsung is permanently ending production of its Galaxy Note 7, just a day after the Korean giant halted sales worldwide of the phone,owing to safety fears over defective batteries — including in replacement handsets the company had subsequently sent to customers following original devices.
Samsung's decision to kill off the Note 7 caps a dramatic few months for the company. It had briefly enjoyed rave reviews for the $880 phone before reports emerged that the batteries inside the devices were defective.
"Taking our customer's safety as our highest priority, we have decided to halt sales and production of the Galaxy Note 7," the company said in a filing with South Korean regulators.
The permanent end of production starts to the process of closing one of the most embarrassing and unprecedented events in consumer tech history. Just over a month ago, Samsung delayed shipments of its flagship handset, after reports that units were catching of fire spread in Korea and parts of Asia. This was followed by a voluntary recall which became a federally orchestrated official recall one week later.
Aside from the damage to Samsung's Galaxy brand of being associated with exploding batteries, the cost of withdrawing the Note 7 will not come cheap.Reuters cites analysts estimating that a permanent end to Note 7 sales could cost the company up to $17 billion.
Meanwhile, the company's stock price has also taken a substantial hit on the news of the Note 7's nixing: falling by 8 per cent today, its biggest percentage decline since October 2008, as investors wiped some $19 billion off the value of the company.