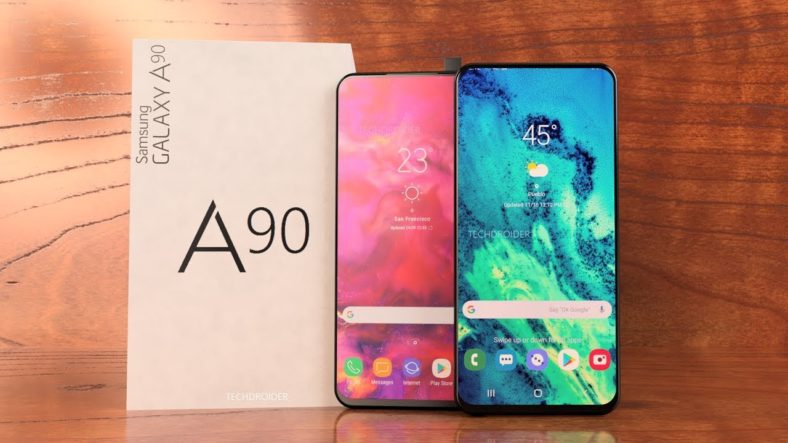 We have some hot leaks for you regarding the Samsung Galaxy A90. This upcoming smartphone will be a rivaling flagship with great hardware says the leak. OnLeaks posted on Twitter some hot details about the fabled Samsung Galaxy A90. He posted about two versions of the smartphone with some specifications, but not much. However, Galaxy A90 promises to outperform Samsung Galaxy S10 models.
Samsung Galaxy A90 Leaks
From the post, we find out that we will have two different versions of the Samsung Galaxy A90. The standard features on both will be the Snapdragon CPU and the 6.7-inch display with a built-in fingerprint scanner. Talking about them individually, we find out that one version will feature 5G connectivity, a tri-sensor camera setup on the rear, with 48 megapixel, 8 megapixels, and a 5-megapixel snapper.
However, the second version of the phone will have a 48 megapixel, a 12 megapixel, and a 5-megapixel rear camera, and they come with the exclusive tilt OIS, which means Optical Image Stabilization.
Both versions have the 48 megapixels camera sensor which is similar to the ones on OnePlus 7 Pro and Asus Zenfone 5. Even if the camera setup is coming with this custom tilt OIS, the result will depend on how the company will make the setup on it.
Samsung Galaxy A90 Would Outperform Samsung Galaxy S10 Models
Unfortunately, we don't know many things about the RAM details, the screen resolution, or the battery capacity. We are relying on the solid specs that are leaked now, and take note that the Qualcomm CPU is the same one the company used on the Galaxy S10. If Galaxy A90 uses the same, then it will be a powerhouse performer.
Finally, we know that the information posted by OnLeaks aren't official, but he has a solid record of leaking specs. Also, even if the A-series are created especially for the midrange prices, with the new flagship, Galaxy A90, Samsung will be the one to use a 5G connectivity for a price segment of a mid-range device. According to the leaked details, Samsung Galaxy A90 would outperform Samsung Galaxy S10 models.