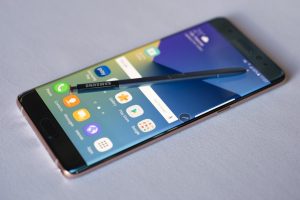 Samsung has announced a new upgrade program for users of its ill-fated Galaxy Note 7 smartphone. The Korean Giant calls this program 'Galaxy Upgrade' and the customers who trade in their Note 7 phone for either a flat-screen or curved-screen version of the Galaxy S7 can trade up for a Galaxy S8 or Note 8 smartphone launching next year for half the original price. Also included in the upgrade program is a warranty based discount of 50% off for LCD repair costs, that users would be able to avail twice.
The offer can be redeemed by customers till November 30 of this year. The offer is currently only available in South Korea, and those who've already exchanged their Note7 unit for a Galaxy S7/S7 edge will also be eligible for it. Details on how to redeem will be announced later this week.
Unfortunately, there is no news on whether this offer or anything similar will be made available to rest of the world but Samsung does excel in customer service and we are hoping to see such an offer being announced shortly by the tech giant worldwide.