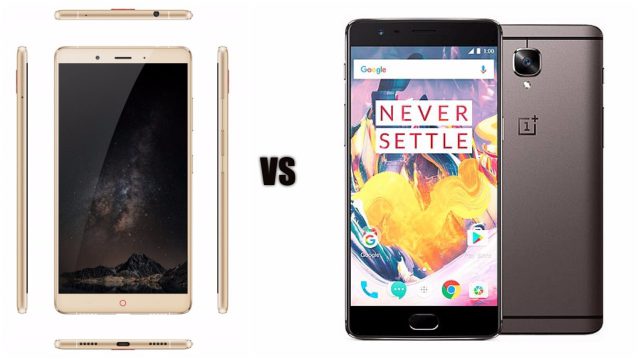 If you ask me what are two of the best budget flagship smartphones in India, my answer would definitely be,

OnePlus 3T

and

Nubia Z11

. Both the smartphones are identical in specifications except for the front facing camera, processor and battery. 
---
The difference.
OnePlus 3T is a bit ahead of Nubia Z11 as it boasts a Snapdragon 821 chipset, while the Nubia Z11 is still stuck at Snapdragon 820. OnePlus 3T sports a massive 16MP front facing camera, opposed to the 8MP camera on the other. Guess who has a bigger battery? It's the OnePlus 3T with a 3400 mAh battery, while the Z11 is backed by a smaller 3000 mAh battery.
---
The same.
The RAM in both the phones is 6GB, coupled with 64 gigs of internal storage. Not to forget, OnePlus offers a higher storage variant of 3T with 128GB internal storage. Both sport a 5.5″ full HD display, features a fingerprint sensor and runs Android Marshmallow out of the box. And yes about the price; both the phones cost the same – Rs. 29999. 
---
It's safe to say that both the smartphones OnePlus 3T and ZTE Nubia Z11 offers top notch performance and a premium design at a very affordable price. 
Which one to buy?
It's actually hard to choose one among the two, considering they have almost the same specs. But, we would like to stick with OnePlus 3T as it has a better processor, a better front camera and a better battery. 
If you have a different opinion about the smartphones, do let us know in the comments below.
Image credits : GadgetsToUse