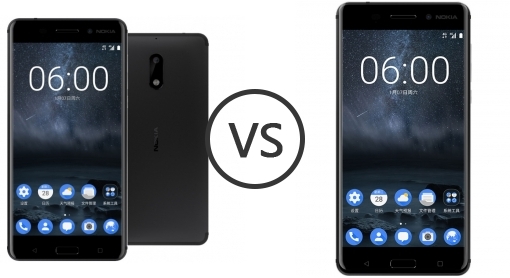 The Finnish manufacturer has recently made a comeback in the smartphone industry with Nokia 6. The latter has been released as a Chinese exclusive and it's selling so well that Nokia is having troubles meeting the demand. Seeing the success that Nokia 6 has had, the smartphone is expected to see a worldwide launch soon enough. However, it doesn't look like this success was enough for the smartphone manufacturer since another Nokia smartphone is under works.
The second smartphone that's going to come out from the Finnish manufacturer is Nokia 8. The latter is expected to be so much more impressive than Nokia 6 and to compete against the likes of Samsung, Google and Apple. Nonetheless, today we're going to pin Nokia 6 and Nokia 8 in a brief comparison in order to see what we can expect.
Display
Nokia 6 has been fitted with a 5.5 inch IPS LCD capacitive touchscreen that offers a full HD pixel resolution (1080 x 1920) and a pixel density of 403 ppi. The display has also been coated in Corning Gorilla Glass 3. On the other hand, Nokia 8 will ship with a slightly bigger 5.7 inch IPS LCD panel which will feature a high pixel resolution of 1440 x 2560 and a pixel density of 515 ppi. In addition, Nokia 8's display will be coated in Corning Gorilla Glass 5.
Hardware Internals
Nokia has decided to use Qualcomm's processors for both of its smartphones. However, the processor models differ. Without any further ado, let's see what the two have to offer. Nokia 6 is powered by Qualcomm's octa-core Snapdragon 430 CPU. The processor runs at a boosted speed of 1.4GHz Cortex-A53 and it is paired with an Adreno 505 graphics processing unit and 3GB or 4GB RAM, depending on the acquired variant.
While Nokia 6's hardware internals might sound impressive, they pale in comparison with what Nokia 8 has to offer. The upcoming Nokia smartphone will be fueled by Qualcomm's latest Snapdragon 835 CPU that's been clocked at a speed of 2.45Ghz and that's coupled with an Adreno 540 graphics processing unit and the whopping amount of 6GB RAM.