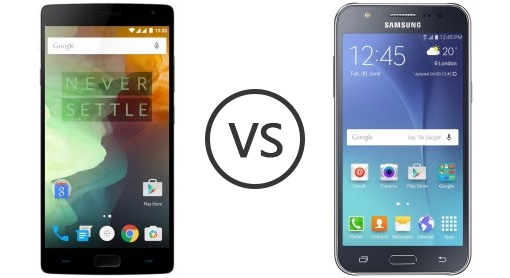 We were able to see a bunch of great mobile handset come out last year. All major tech companies launched new smartphones all throughout 2016, but one of them stood out the most. OnePlus is the name. The Chinese manufacturer launched OnePlus 3 back in June 2016 and the device managed to become so popular that it was even dubbed as the "flagship killer". Today we're going to take OnePlus 3 and compare it against its biggest competitor, Samsung Galaxy J7 Prime.
One Plus 3 vs. Samsung Galaxy J7 Prime
There is a reason to why these devices fit in the same category. Both of them ship with a 5.5 inch display. In fact, both panels feature the same 1080 x 1920 pixel resolution. Now let's leave the display department aside and see what we can find in the hardware department. First off, OnePlus 3 is powered by a powerful octa-core Exynos 7870 processor. The chipset clocks at 1.6GHz and it's also coupled with 3GB of RAM.
On the other hand, Samsung Galaxy J7 Prime uses a Qualcomm Snapdragon 820 chipset. This processor has also been clocked at 1.6GHz but there is one major difference though. Galaxy J7 Prime's processor is paired with the whopping amount of 6GB of RAM.
Regarding storage space OnePlus 3 ships with 16GB of storage space. Also, this can be expanded via a microSD card up to 256GB. Samsung's devices feature a bigger storage space of 64GB, but it cannot be expanded any more. Galaxy J7 Prime comes with a 3,000 battery that's been optimized to last for days on end while OnePlus 3 ships with a larger 3,300 mAh battery.
Verdict
As we can see, these smartphones are quite similar in terms of specs. There are a few major differences though. While Galaxy J7 Prime comes with a bigger amount of RAM, OnePlus 3 makes up for that with its bigger battery. This is the same case in the storage department. Galaxy J7 Prime features a larger base storage space of 64GB but OnePlus 3's can be expanded 256GB. In the end, the decision falls on the costumers. They have to choose the device that fits their needs the most.