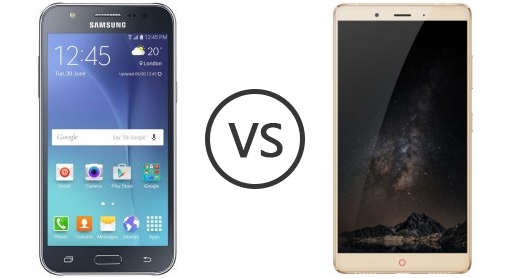 The Chinese manufacturer has been trying to make a name for itself on the tech market for a while now and it looks like ZTE has finally found the means to achieve just that. ZTE designed Nubia Z11 back in 2016 and equipped the device with only the best it had to offer, but to ZTE's bad luck the device competed against Samsung's Galaxy J7 (2016). Today we're going to take the two high-end devices and see which one deserves to win in terms of display and hardware performance
Display
The reason why both devices fit into the same category is because they use a 5.5 inch display but as we're soon going to find out, there are some important differences. ZTE Nubia Z11 ships with a 5.5 inch IPS LCD display that has a pixel resolution of 1080 x 1920 and 403 ppi. On the other hand, Samsung's devices ships with a similar sized 5.5 inch Super AMOLED display that has the same pixel resolution but only 267 ppi. While ZTE's device has a bigger amount of pixels per inch, Samsung's Galaxy J7 (2016) makes up for that with its Super AMOLED display technology which is able to provide higher quality images. In fact, the Super AMOLED technology is regarded as being the best right now and the IPS LCD one doesn't even come close.
Hardware
Samsung made its Galaxy J7 (2016) available in two variants, both being powered by different variants. Depending on the acquired variant the device is powered by Qualcomm's Snapdragon 617 CPU or the company's own Exynos 7870 and these CPU's are paired with either an Adreno 405 GPU or Mali-T830MP2 and 2GB of RAM. ZTE Nubia 11 is equipped with a more powerful Qualcomm Snapdragon 820 processor that's paired with an Adreno 530 GPU and 4 or 6GB of RAM.
It's safe to say that Samsung's device is more than capable of offering stable hardware performances to its users but Galaxy J7 (2016)'s performance pales in comparison with ZTE Nubia 11's. While we went over only two departments it's pretty clear that there are a few major differences. In the end it looks like customers have to choose between owning a Super AMOLED display or a better processor.