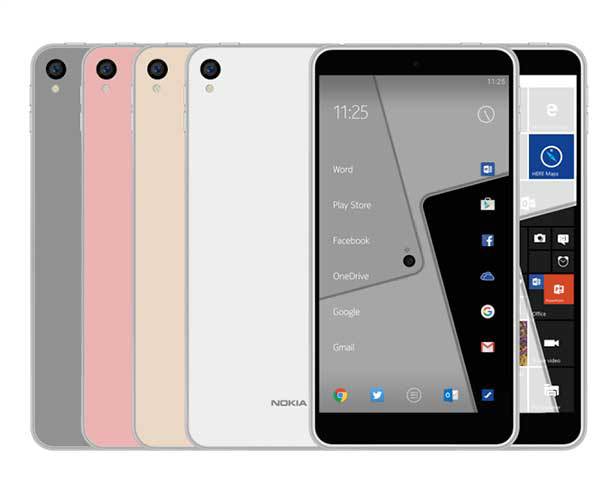 Remember the good old days of the Symbian era when Nokia used to rule the market. Well, the Finnish manufacturer has finally made a comeback. A few years back, Nokia was acquired by Microsoft and together they created the Lumia lineup. As everybody knows by now, Nokia's Lumia series was a flop. Now Nokia has been acquired by HMD Global and it seems like the two tech giants aren't wasting any time.
During the first days of 2017 the Finnish tech company launched Nokia 6. This smartphone was launched as a China exclusive and it's safe to say that it was a major success. Nokia 6 went on a flash sale and went of out stock in less than one minute. Well, now it looks like Nokia 6 won't be the last we see from the Finnish manufacturer. Rumors are pointing out that two other devices are on their way. The internet is filled with rumors surrounding the upcoming Nokia D1C and Nokia Edge 2017. Today we're going to compare them and see what we can expect in terms of performance and display technology.
Display
Nokia 6 shipped with a 5.5 inch display and seeing how successful it is, it's completely understandable why Nokia would want another 5.5 inch model. With that being said, Nokia Edge 7 2017 is rumored to come with a 5.5 INCH display that has a full HD resolution of 1920 x 1080 and a pixel density of 401. On the other hand, the smaller Nokia DC1 will ship with a 5 inch full HD display that has the same resolution but a larger pixel density of 441 pixels.
Hardware Performance
Before we jump into Nokia DC1 and Edge 7 2017's hardware performance, we need to mention that there's not that much information regarding Nokia Edge 7 2017. Everyone is expecting that Nokia Edge 7 2017 will be equipped with an octa-core processor and 3GB of RAM, but we don't know from what manufacturer. Qualcomm will be probably the chosen one. The reason behind this is that Nokia DC 1 will feature a Qualcomm octa-core Snapdragon 430 chipset that's also going to be paired with 3GB of RAM.
Both devices seem to be impressive in terms of hardware performance. We can expect that during the upcoming weeks Nokia will release additional information. Nonetheless, we can be sure that Nokia's upcoming devices are going to be mid-budget oriented.