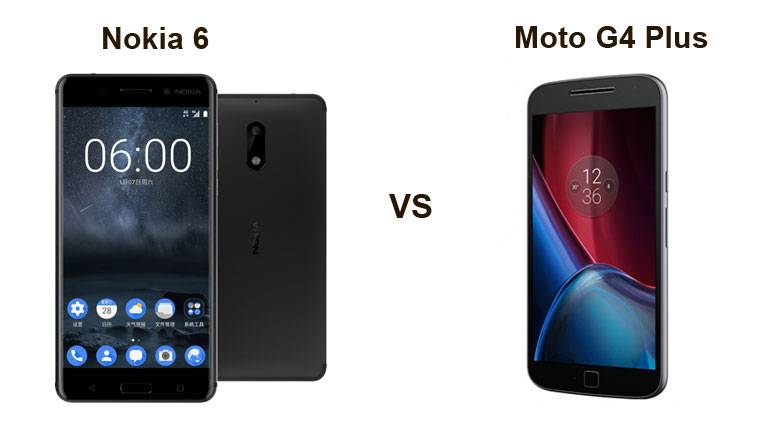 HMD Global recently acquired the Finnish company from Microsoft and it looks like HMD isn't wasting any time because Nokia 6 has just been launched. Taking in consideration that Nokia used to reign supreme during the Symbian era fans have set high expectation for the Finnish company. After looking at the device's specs and features it's safe to say that Nokia delivered. Today we're going to take Nokia 6 and test it against another mid-budget device, the veteran Motorola Moto G4 Plus.
Hardware
Nokia 6 is powered by Qualcomm's impressive octa-core Snapdragon 430 processor which is paired with 4GB of RAM and 64GB of internal storage that can be expanded via microSD card. Motorola on the other hand, equipped Moto G4 Plus with an equally powerful Qualcomm octa-core Snapdragon 617 processor that's coupled with 3GB of RAM. Moto G4 Plus comes in the 32GB and 16GB internal storage space variants, but this can also be expanded via microSD card. Besides the one extra GiB of RAM Nokia 6 has, users will not be able to see any major differences. It's safe to say that in terms of hardware performances both devices are equals.
Display
It shouldn't come as any surprise that both devices ship with the same 5.5 inch LCD display that has a resolution of 1920 x 1080 pixels. If the fight seemed to be close until now, the display department proves just that. There aren't any major differences between the displays and they are able to provide users with the same amount of color intensity.
Price
Motorola's device can be found available for the price of $299 on Amazon. The device is unexpectedly cheap considering the amount of impressive hardware pieces it comes with. Nokia 6 also comes for an affordable price of $250, the only downside being that the device is exclusive to Chinese residents.