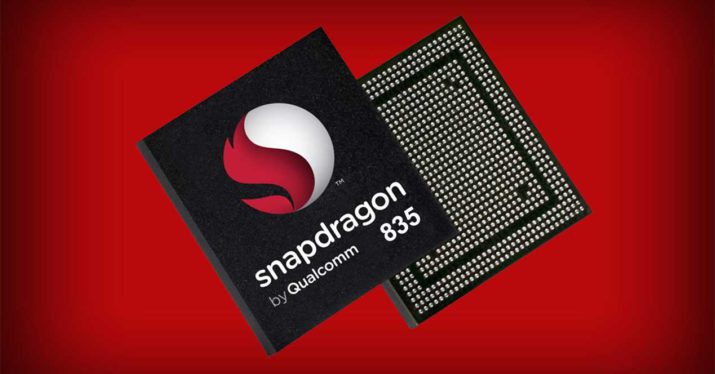 Say BYE to all the rumors and leaks that were making rounds on the Snapdragon 835 chipset. Today at CES, the company Qualcomm itself has detailed the capabilities of its new 'beast' chipset – Snapdragon 835. 
---
It seems like the chipset manufacturing company, Qualcomm is very proud of its upcoming flagship processor Snapdragon 835, calling it "smaller, faster, and more energy-efficient than any chipset in history".
With over a 3 billion transistors placed on a 10 nm design (Woah!) , the upcoming processor is still 30% smaller, 27% faster and 40% more power efficient than the ex-flagships 820/821. This great feature about the processor will enable the manufacturers to produce thinner phones without compromising the battery capacity.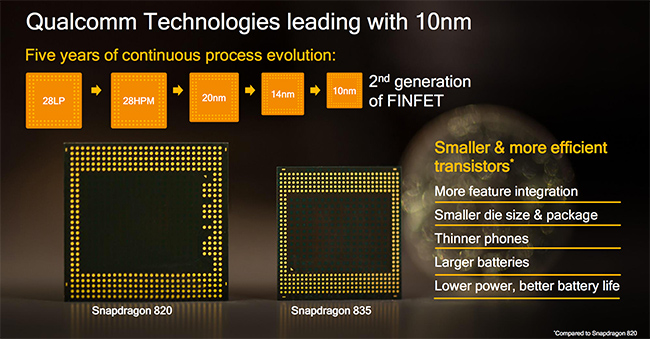 Battery life is unbelievable; it promises a day's worth of talktime, 5+ days of music playback, 7+ hours of 4K video-streaming, and 3+ hours of 4K video capture. It's also the first SoC to offer Quick Charge 4.0. QC 4.0 supports USB-C and USB-PD (Power Delivery), and boasts 20% faster charging and up to 30% higher efficiency when compared to QC 3.0.
With the trending Virtual Reality environment, the processor offers low-latency, and six-degrees of freedom for precise motion-tracking. The new Adreno 540 GPU promises 60 times better colors and 25% faster 3D rendering than the predecessor. There is also added support for scene-based and object-based audio, HDR10 video, 10 bit color, and the SoC is fully compatible with the Google's new DayDream platform.
Talking about the connectivity, there's the Snapdragon X16 LTE modem, which enables Category 16 LTE download speeds that go up to one gigabit per second. For uploads, there's a Category 13 modem that lets you upload at 150MB/sec. For Wi-Fi, Qualcomm is offering an integrated 2×2 802.11ac Wave-2 solution along with an 802.11ad multi-gigabit Wi-Fi module that tops out at 4.6Gb/sec. The 835 will consume up to 60% less power while on Wi-Fi.
The Snapdragon 835 will offer Bluetooth 5, with the SoC being the first commercial product to be certified for the new standard. It also runs Qualcomm's hardware-based Haven Security platform, that has a secure execution environment for user authentication and device attestation. The company has also added a neutral software framework which features Google's Tensorflow library, enabling manufacturers that rely on machine learning to build better experiences when it comes to photography, security, personal assistants, and virtual reality.
---
If you're planning to buy a smartphone, you might want to hold-off for now, as the 'beast' is still under production and may take a month or two to be featured in smartphones.