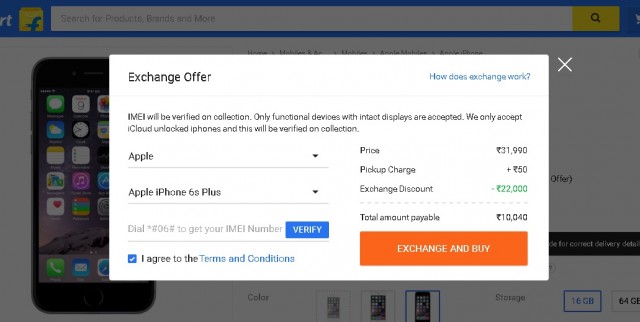 If you are looking for a premium smartphone, the first one that comes to mind would probably be an iPhone. But, people often settle for Android smartphones, due to the expensive price tag of the fruit products. That's not the case now. The Indian Startup retailer, Flipkart is now selling brand new iPhone 6 for just Rs 10000 under their exchange offer. 
---
The Apple iPhone 6, which were launched in September 2014, is now going for Rs 10000 on Flipkart, under their infamous exchange offer. That means the 16 gigs variant of the iPhone 6 is getting a price cut of Rs 22000 on the e-commerce platform. However, to avail the offer, you'll have to exchange a smartphone that is worth Rs 22000.
I don't know why would someone fall for the offer, ie giving away a new phone for an older iPhone. But, if you find the deal worthy enough, be sure to check out their official site for more details.
There is also an option of paying through EMI along with discounts of up to 5 percent from a few selected banks.