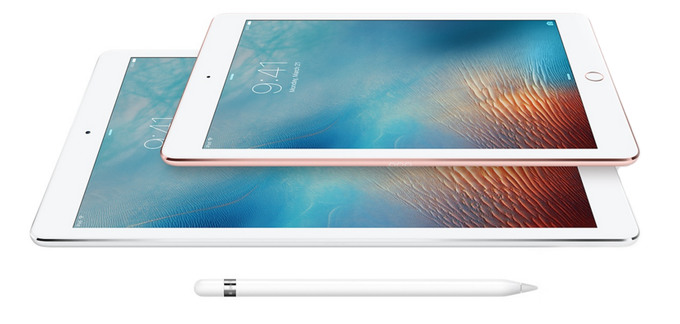 It's safe to say that Apple fans have been happy with the amount of devices the Cupertino based tech giant launched during last year and two of the most popular ones are certainly iPad Pro 9.7 and iPad Pro 12.9. While both of them feature the same name there are a few other differences than their size. Today we will go over what separates the two of them in terms of display, hardware and price.
Display
Right from the bat, readers will be able to see major differences. While it's clear by now that their displays come in different sizes, that's not all of it. What really matters is what display technology they use. The larger 12.9 inch variant comes with a LED-backlit Retina display that features a pixel resolution of 2732 x 2048 and 264ppi. On the other hand, the smaller 9.7 variant comes with a True Tone display that features a pixel resolution of 2048 x 1536 and 264ppi. While the pixels per inch might be the same, the pixel resolution makes a huge difference.
Hardware Performance
The 12.9 variant comes with an A9X processor that's paired with a M9 motion co-processor which lasts around eight hours of heavy usage while smaller one features the same processor but it lasts up to ten hours. Both tablets come in the 32GB/128GB and 256GB of internal storage models. The processor is rather powerful and it provides users with impressive performances.
Price  
Now here is where we can find the biggest difference. The 12.9 iPad Pro is priced around $825 and it can go up to $1250 for the premium variant. The smaller iPad Pro can be acquired for $550 or $1000 for the 256GB variant. While there aren't that many differences this was to be expected because the 9.7 inch model was designed especially for customers which wanted the same hardware performances as the 12.9 model but at a cheaper price.