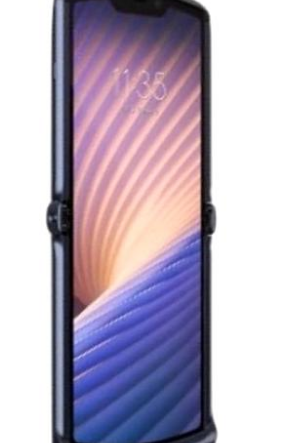 Motorola is preparing to launch the second generation of Motorola Razr foldable phones. It will most likely be called the Motorola Razr 5G and will be equipped with an average hardware configuration, will have a slightly changed design and a few other important upgrades less obvious, but which could be very important in use. A new leak reveals the hardware, size, weight and a few other details.
Motorola Razr 5G is a significant hardware upgrade
Motorola Razr 5G will benefit from a Snapdragon 765 chipset with 5G modem, 8 GB RAM and 256 GB internal storage. Also, the phone's battery will be slightly larger, 2,800 mAh, compared to 2,510 mAh on the original model, while the 6.2 "foldable screen could also be improved. The latter is still cut off, being interrupted by the call speaker as well as a 20 megapixel front camera.
And the cameras seem to be an important aspect that Motorola has been working on for the Razr 5G. The phone will use a 48-megapixel sensor for the main camera, replacing the 16-megapixel sensor on the model launched earlier this year.
This model will be a little thicker than the Motorola Razr, but it will be significantly lighter and shorter. We have dimensions of 168.5 x 72.5 x 8mm. The reason why the phone is shorter is the abandonment of the fingerprint sensor integrated in the "chin" of the phone. The extra thickness seems to be due to the larger battery and the new 5G antennas, which will be integrated inside. The weight is now 190 grams, compared to 205 grams on the original model.
The difference would be that Samsung only offers a very small external screen, less useful for reading messages and taking photos. The official announcement for the Motorola Razr 5G is expected on September 9.