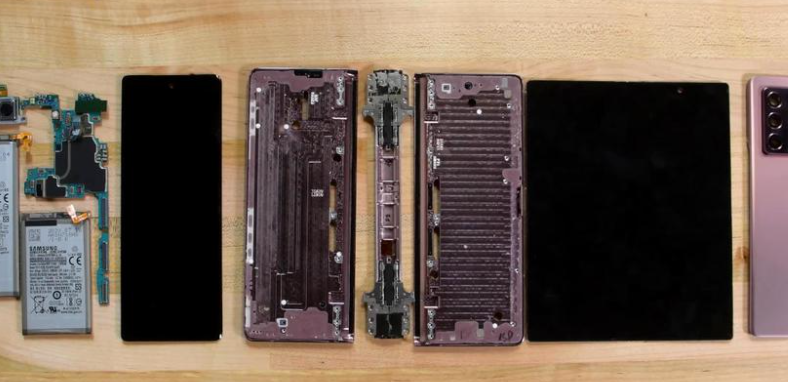 Despite the alarming rate of defects and the exorbitant price, Galaxy Fold phones have generally been well received by Samsung fans, the sequel to the Galaxy Z Fold 2 coming with a much improved design, more reliable and easier to repair.
Not infrequently, the price of a first-generation product is measured in more than money. Launched perhaps earlier than it should have been and insufficiently tested in real conditions of use, Galaxy Fold became famous for the spectacular way in which it broke even in the hands of journalists. But that hasn't stopped fans' appetite for foldable phones, prompting Samsung to develop the successor to the Galaxy Z Fold 2.
Galaxy Z Fold 2 is as it should be Galaxy Z Fold 2
With more than a year available to correct the many shortcomings highlighted in the debut model, South Korean engineers have focused on modularity and a simplified design.
Helped by the fact that it includes fewer cameras, the Galaxy Z Fold 2 is surprisingly affordable for repairs. Starting from the secondary screen and the glass panel applied over the only part not covered by the screens, the adhesive applied on the contour comes off almost effortlessly, the replacement of these two components being practically risk-free.
Most components are fixed with screws, operations such as replacing the camera, or the electronic board without problems. Unfortunately, the two batteries are fixed with a fairly strong adhesive, which complicates the possible replacement.
Unfortunately, the intervention to replace the folding screen remains with a high degree of difficulty, involving the disassembly of the phone almost to the last component.
Important changes to the screen hinge
Looking at the main screen at the back, we can see the solution found by Samsung to protect the folding area. Without adding to the thickness of the phone, Samsung engineers chose to protect the edges of the OLED screen using a "mat" made of metal rods.
Used in combination with ultra-thin glass applied to the front, the hinge visible only on X-ray examination guarantees compliance with strict tolerances for folding the screen, avoiding the formation of wrinkles in the most exposed area. Visible from the edge of the screen, the metal mat rests directly on the chassis of the case and is covered with a plastic frame applied to the contour of the phone, acting as a barrier against dust penetration.
Overall, the Galaxy Z Fold 2 is chosen with a score of only 3/10 points, reflecting a high degree of difficulty of repairs, but still not as high as its predecessor Galaxy Fold or rival Surface Duo recently launched by Microsoft.