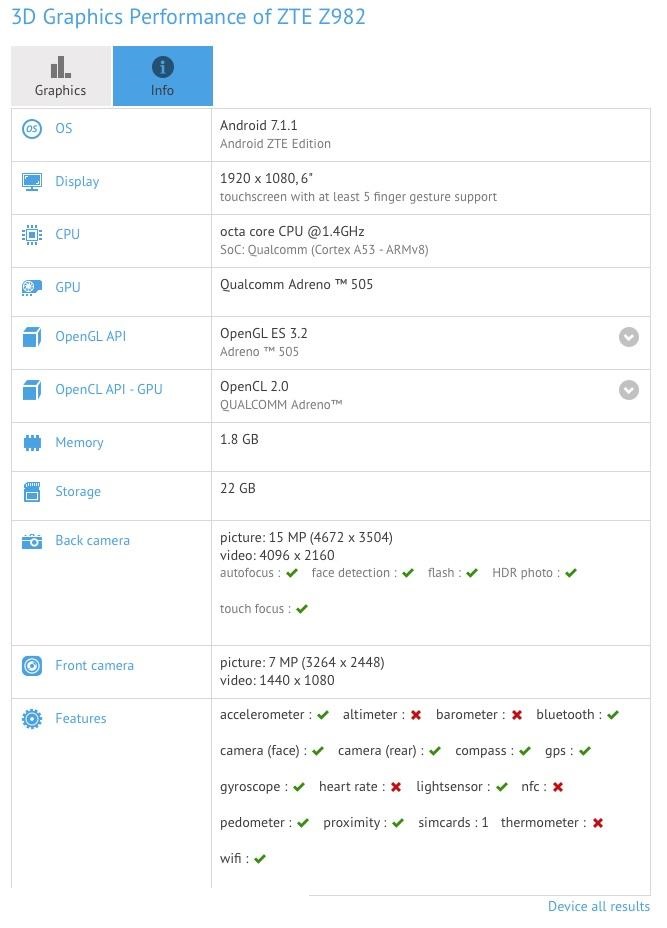 The smartphone industry used to be ruled by the likes of Apple and Samsung. However, things have changed ever since Chinese tech manufacturers decided that they also want a piece of the pie. One of the biggest names in the Chinese smartphone industry is ZTE and the reason behind this is that ZTE always puts out great handheld devices which are more than often priced quite cheaply.
The entire internet is buzzing with rumors and speculations about ZTE's upcoming smartphone but fortunately for us, we don't have to rely on rumors anymore since ZTE Z982 has been spotted on GFXBench. The aforementioned website is a benchmarking tool that smartphone manufacturers use in order to see how well their devices perform. However, the best thing about GXFBench though is that it shows us ZTE Z982's entire specs sheet.
ZTE Z982 Specs
According to GFXBench, ZTE Z982 will ship with a 6-inch display which supports at least five finger gestures. Moreover, ZTE fans should be happy to know that this 6-inch display offers a full HD resolution of 1920 x 1080 pixels. Leaving the display aside, the most important piece of information that GFXBench provides us with is the smartphone's octa-core processor that's been clocked at 1.4GHz.
To make things even better, ZTE Z982's processor has been coupled with an Adreno 505 graphics processing unit and 2GB of RAM. In addition, the GFXBench listing also shows us that ZTE Z982 is packed with 22GB of internal storage space but it will probably get expanded before the smartphone officially comes out.
Last but not least, the upcoming smartphone runs on Google's Android 7.1.1 Nougat operating system. This is great news since Android 7.1.1 Nougat is packed with innovative features which make the smartphone's user experience so much better. Furthermore, Android 7.1.1 Nougat also includes a bunch of performance tweaks and enhancements which will improve the way ZTE Z982 works.