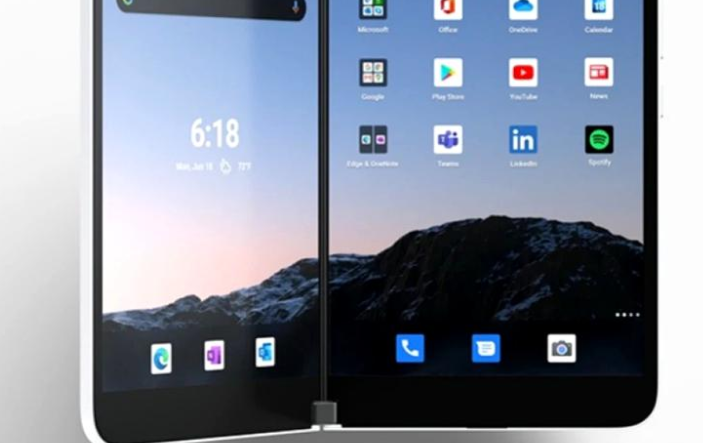 Microsoft has finally announced new details about its two-screen smartphone, the Surface Duo. It was officially unveiled almost a year ago, along with the Surface Neo dual-screen laptop and the new Windows 10X operating system. While the latter two products will be delayed for at least a year or two, the Surface Duo, based on Android, will be launched on the market very soon. We now have an official launch date and a price for the new device with at least a strange shape.
Surface Duo comes with last year's configuration and high price
Surface Duo is not the first dual-screen smartphone on the market. Before him there were other efforts such as the ZTE Axon M model, or other models with screens on both sides. But it seems to be the first such device produced by a top company in the industry, which is trying to present it as a productivity device.
However, the hardware configuration of the Surface Duo has not changed since its presentation last year, which will matter to some users, especially when considering the price. A Snapdragon 855 chipset with 6 GB of RAM and a 3,500 mAh battery for two screens are not very impressive in 2020, when the phones come with much more powerful hardware. A flagship this year comes with Snapdragon 865, 12 or 16 GB of RAM and a battery of over 4,500 mAh, as well as 5G, another aspect that Microsoft ignores.
Thus, the price of $ 1,399 in the advertised for the USA may seem very high. In fact, this is the price of the most expensive model of iPhone 11 Pro Max or Galaxy Note20, which come with better hardware, better cameras and probably more autonomy. However, Microsoft is based on the fact that it will attract customers interested in the two 5.6 "displays, which allow running several applications simultaneously.
The launch is scheduled for September
The screens can be rotated 360 degrees, and can be either outside or inside, while Microsoft applications such as Office, Outlook, Teams, OneDrive or OneNote have special integration into the custom Android operating system.
In the US, Surface Duo will be distributed through AT&T and T-Mobile, as well as through specialty stores. The release date is set for September 10. Microsoft says it will be the thinnest phone on the market, with a thickness of 4.6mm when fully open.