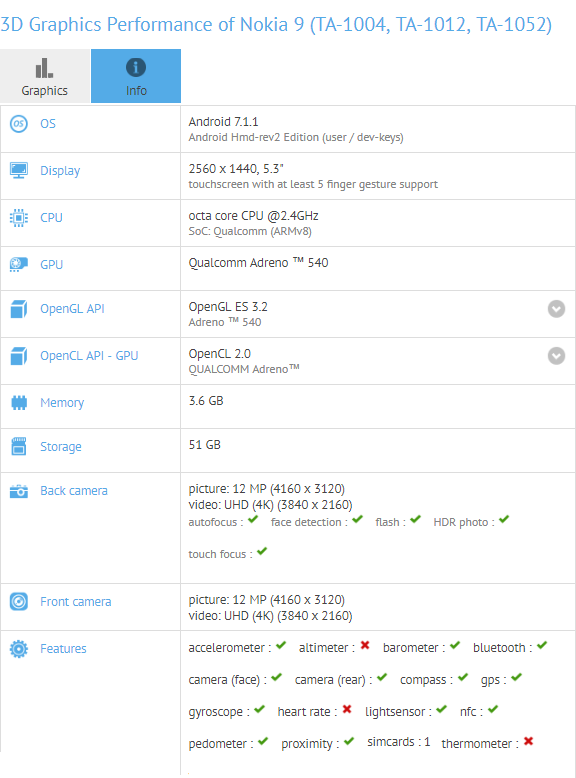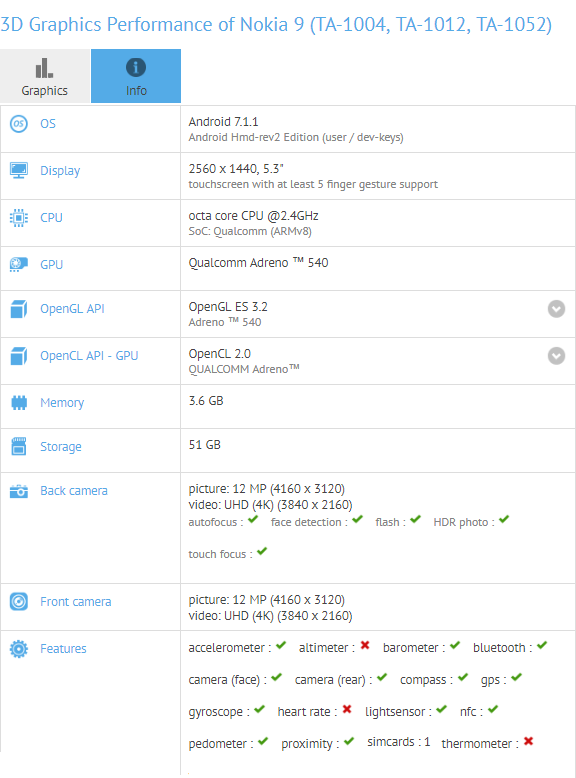 As many of you might already know, Nokia has made a comeback in the smartphone industry. The Finnish manufacturer was acquired by HMD Global and it seems like its sole purpose is to get back to its former glory. HMD Global and Nokia combined their powers and made their debut with Nokia 6 which sold out in a matter of minutes. However, the smartphone was launched exclusively in China.
Even though Nokia 6 can be considered as a successful smartphone, it doesn't quite have the necessary hardware specs to compete against the likes of Google's Pixel and Apple's iPhone. This is the reason why HMD Global and the Finnish manufacturer are working on Nokia 9 which is going to hold the title of being a flagship device.
GFXbench Leak
Flagship devices are known for representing the best that a company has to offer and Nokia 9 is going to be just that. There were many rumors and speculations surrounding Nokia 9 but we finally have some official information. Fortunately for us, Nokia 9 was spotted on GFXbench which means that we can see all of the smartphone's hardware specs. Without any further ado, let's see what Nokia 9 has to offer.
Nokia 9
According to the GFXbench listing, we can expect Nokia 9 to ship with a 5.3-inch QHD display that's going to offer a high pixel resolution of 2560 x 1440. Furthermore, Nokia 9 will be powered by Qualcomm's Snapdragon 835 CPU alongside an Adreno 540 GPU and 4GB of RAM. The smartphone will also run on Google's latest Android 7.1.1 Nougat but it will surely be eligible to download Android 8.0 once the final version becomes available. Last but not least, Nokia 9's rear side will feature a dual-camera setup that's made from two 13MP cameras while the front side will feature only one 13MP selfie camera.