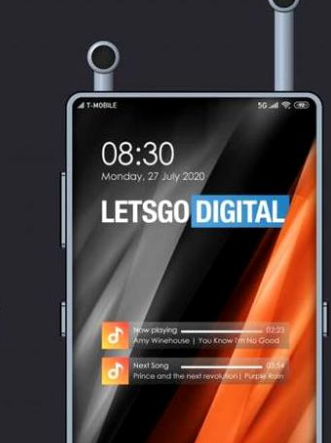 Xiaomi has patented a smartphone model that comes with wireless headphones, not in the box, but built into the phone.
This does not necessarily mean that the Chinese manufacturer will make the device, but we know that Xiaomi experiments frequently. An example is Mi MIX Alpha 2, a concept phone with two screens and a single camera
The headphones can be accessed in the phone imagined by Xiaomi as the stylus is removed on the Galaxy Note phablets, by pressing on their end.
The first images with the concept appeared in June. It was then thought that the two circles on the top edge of the phone were pop-up cameras. These are, in fact, wireless headphones.
The headphones are also unusual. To be placed in the ears, they must be bent into the appropriate shape. This is allowed by a hinge.
Read also: How much does the Mi Smart Band 5, Xiaomi's new fitness bracelet, cost
Xiaomi's design involves shortcomings
The terminal appears to have a front camera hidden under the screen and no visible speakers.
Such a design comes with several drawbacks. The headphones do not have a shape that fits well in the ears of users, and the smartphone would most likely not have resistance to dust and water. Moreover, to make room for the headphones in the case, Xiaomi engineers would have to make other compromises. It could be a smaller battery or giving up wireless charging.
The Xiaomi device reminds me of a recently announced gadget. Mumkair S300 was a project launched on Kickstarter, which combined a smartwatch with a pair of true wireless headphones. The watch worked as a charger for headphones.
However, the project did not raise the necessary funds and was canceled.