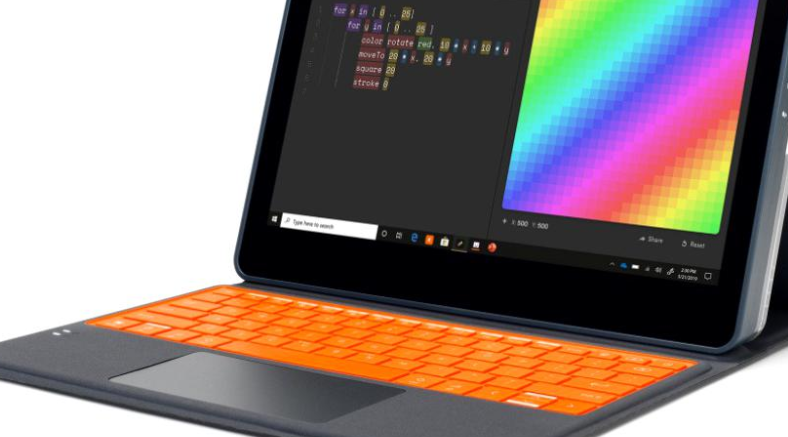 Even though the Kano modular tablet project has been available on Kickstarter since 2016, the company's first commercial product is now a reality. And the time to launch this product is very opportune, because there is a need for cheap computers, dedicated to education. Kano PC promises the basic Windows 10 experience on a rugged tablet that gives kids everything they need to learn in the digital age.
Kano has launched a modular PC very capable of education
Kano PC was a successful Kickstarter project. The first version of the product was offered to those who financed the project as a test version, and this second version is the commercial one. The product comes in a modular format, with the screen, keyboard and separate internal components. Users assemble the computer as a LEGO project and then can start using it. The back of the computer is transparent, so you can see the internal components all the time.
The configuration is quite good for a 2-in-1 computer with Windows 10. It is based on a dual-core Intel Celeron processor, with 4 GB of RAM and 64 GB of internal storage. There is a microSD card slot, a USB-C port for charging and two USB 3.0 jacks. The 11.6 "screen is protected by a durable plastic panel. Inside, of course, there are components such as Wi-Fi, Bluetooth 5.0 and a passive cooling solution with a large radiator.
Priced at $299 in the US, the Kano PC also comes equipped with a keyboard, unlike other tablets at similar prices. In theory, this computer will be able to be upgraded and modified over time, if Kano really launches new modules for it. The company says that this computer is more powerful than other more powerful laptops, such as Acer Spin 11 and HP ProBook, probably from older generations.
There is dedicated software and accessories
The pre-installed software is Windows 10, but Kano also delivers Kano Software Studio, a package of educational applications. There is also a module with 40 lessons for the Creative Computing Program, but also the integration of this module with Microsoft Teams, for distance learning.
The company also presented three official accessories for the Kano PC: a mouse, a pair of headphones and a USB web-cam. The tablet does not include an integrated webcam, as this would be a major privacy risk for a children's device. However, the separate webcam could be used for internet lessons. However, it will have to be bought separately. The accessory package, which will independently cost another $100, will be offered free of charge to those who funded the original project on Kickstarter.