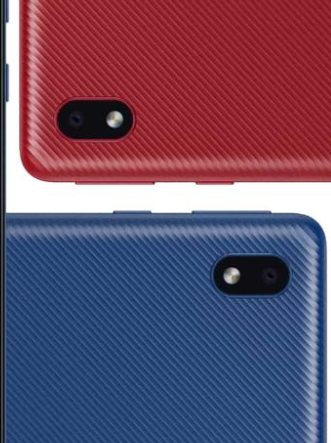 For emerging markets, the Galaxy A01 Core will have its official debut in a very short time, Samsung fans with a budget of about $100 receiving a smartphone with a classic but attractive design.
It is not uncommon to hear of new smartphone models equipped with a single camera on the back, the tendency being to deliver at least a dual-camera system, no matter how poorly performing and unusable the second sensor. However, Samsung prefers to launch an "honest" phone with a simple design and optimized performance by choosing a version of Android suitable for a budget product.
What Galaxy A01 Core offers
Appearing in unofficial renderings, Galaxy A01 Core comes with a polycarbonate finish that mimics carbon fiber, buyers having to choose between red and blue versions, possibly more options after the official launch announcement.
As classic as possible, the design retains fairly prominent vertical frames and symmetrical horizontal bands, the upper one housing the front camera. Even if the quoted source does not explicitly state this, we can assume that the screen with HD resolution is covered with mineral glass, the actual resistance to scratches will be tested later.
Samsung Galaxy A01 seems to come equipped with a MediaTek chipset from the MT6739WW series, helped with only 1GB of RAM. But the configuration should not be a problem for the Android 10 GB version delivered by the manufacturer, as long as the user-selected ones are also installed in the "GO" edition, optimized for devices with limited memory resources.
Appearing in the Wi-Fi Alliance regulator's catalog codenamed SM-A013F and SM-A013F_DS, the Galaxy A01 looks set to have a dual-SIM version as well. Unfortunately, the phone will only support connecting to wireless networks using the Wi-Fi N standard, which means that transfer speeds cannot be much higher than those obtained through the 4G connection.