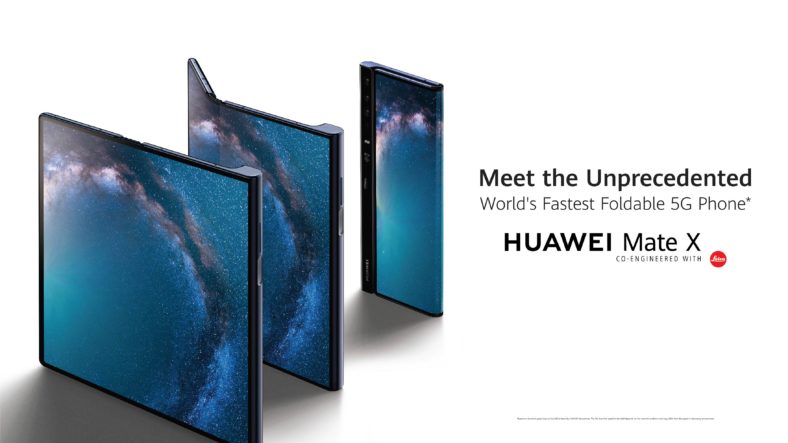 Huawei has finally announced the arrival of its highly expected foldable smartphone which goes by the name of Huawei Mate X. The initial launch scheduled for June was delayed, but now it has been affirmed that the smartphone will get to the market in September.
The Chinese tech giant has used the past months to enhance the P-OLED display on the smartphone to avoid getting involved in the same issues Samsung had with its foldable device. Vincent Pang, President of Huawei's Western European Region, said on Friday.
Huawei Mate X Foldable Smartphone To Launch In September
Huawei Mate X was first announced in February of this year. A while after, Huawei said it was taking a careful approach with the devices, as Samsung has failed its foldable smartphone 'Galaxy Fold' launch in April because of a display problem.
With Huawei's homeland still expecting the release of 5G services and the United Kingdom being at the beginning of its 5G coverage projects, the Chinese giant decided to delay the version of Mate X until there was a stable market ready to purchase one. Besides being a foldable smartphone, Huawei Mate X is also a 5G device, so the provider wants it to be correctly and fully used upon its launch.
Pang has also affirmed that indifferent of China-US trade issues and the ban on US companies supplying Huawei, the foldable smartphone will still be an Android device as it was already unveiled before the US issues the sanctions.
Huawei Mate X Technical Specs
After sophisticated tests, Mate X foldable smartphone has passed Chinese 3C certification mark, a required product certification system which has the aim of protecting user security, under model TAH-AN00​.
The Huawei Mate X will probably include a new power adapter with a maximum output of 65W with an HW-200200CP1 charger​. When unfolded, the smartphone has a size of 8-inches, in comparison to Samsung's Galaxy Fold's screen, which has 7.3-inches. The displays are 6.6-inches and 4.6-inches when folded.
Huawei Mate X has 8GB of RAM, and it is powered by a 1.8GHz octa-core Huawei HiSilicon Kirin 980 chipset. The smartphone runs on Android 9.0 Pie, and it has a 4,500mAh battery which supports fast charging.