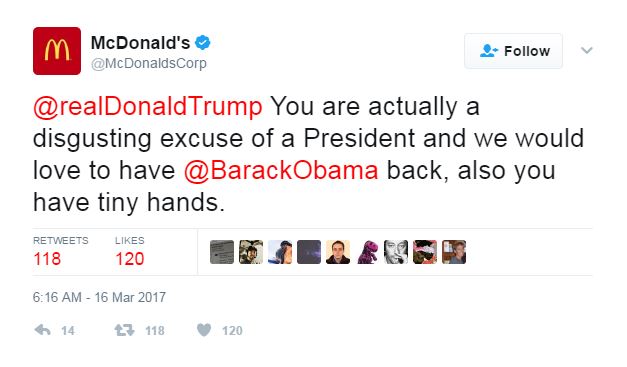 The news of twitter accounts getting hacked is definitely not a new story. We've witnessed twitter accounts of many celebrities and organizations being hacked and then using it to tweet inappropriate tales about the person. But this time around, the hack is a bit more interesting as the account that is in question belongs to none other than our favorite fast-food restaurant chain, McDonald's.
Some hacker, who is not happy with Donald Trump 'taking over' America (or should I say one among the million Trump haters), managed to hack McDonald's' twitter account and shared the following tweet.
"@realDonaldTrump You are actually a disgusting excuse of a President and we would love to have @BarackObama back, also you have tiny hands."
The tweet was liked and retweeted by many people online and soon turned out to be the most-trending feed on twitter, and finally caught the attention of the company itself. The tweet disappeared into the wild since then. About an hour after the tweet, McDonald's posted a message on Twitter stating that their twitter account had been "compromised". The message reads, "Twitter notified us that our account was compromised. We deleted the tweet, secured our account and are now investigating this."
Donald Trump, as we know him, is one of the more fast-food loving presidents in recent history, tweeted pictures of himself eating fast food such as pizza and nuggets during the U.S election campaign. He even featured in a McD ad promoting the restaurant chain's since-discontinued Big N' Tasty burger for $1.