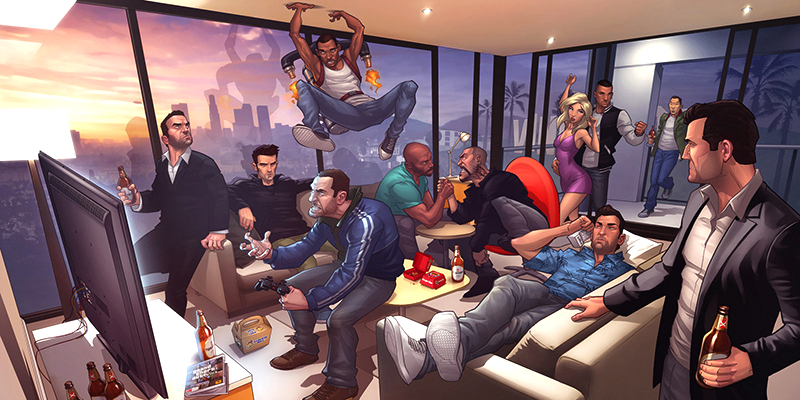 Rockstar Games has managed to create one of the longest running and most successful game franchises. We are talking about the highly popular Grand Theft Auto franchise. GTA has gathered quite a massive fan bases along the years, especially since there already are five installments. With that being said, it's easy to understand why everyone believes that GTA 6 is under works right now.
Grand Theft Auto: New Map
Because the game has such a large fan base, the internet is filled with rumors and speculations about it. The most reoccurring and liable rumor is pointing towards the fact that the next GTA installment will not be set in America. Instead, Rockstar Games will GTA 6's action will take place in a foreign country. The two main cities which are believed to be used as maps in the upcoming game are London and Tokyo. The reason behind this is that both cities fit GTA's crime theme with their underground gangs.
Grand Theft Auto: Female Protagonist
Rockstar Games has received some harsh criticism in the past for the way it portraits women. In fact, even though there are already five GTA installments, neither of them presents a strong female character. Now that Rockstar Games showed us that they are able of implementing more than one main character, we can be sure that GTA 6 will include a female protagonist.
There are many reasons which lead us to believe that GTA 6 will more than surely feature a female character. First of all, the game is being played by both males and females and adding a female protagonist will only increase the game's popularity and Rockstar Games's sales percentages by appealing to different demographics. Additionally, rumor has it that the Holywood movie star Eva Longoria will be the one to voice the said character.
Nonetheless, everything we know right now is based on rumors. This means that things might change along the way. Let's just hope that Rockstar Games at least pays attention to what features its fan base it's asking for. This way, Rockstar Games will know exactly what players want and implement those features in the game.