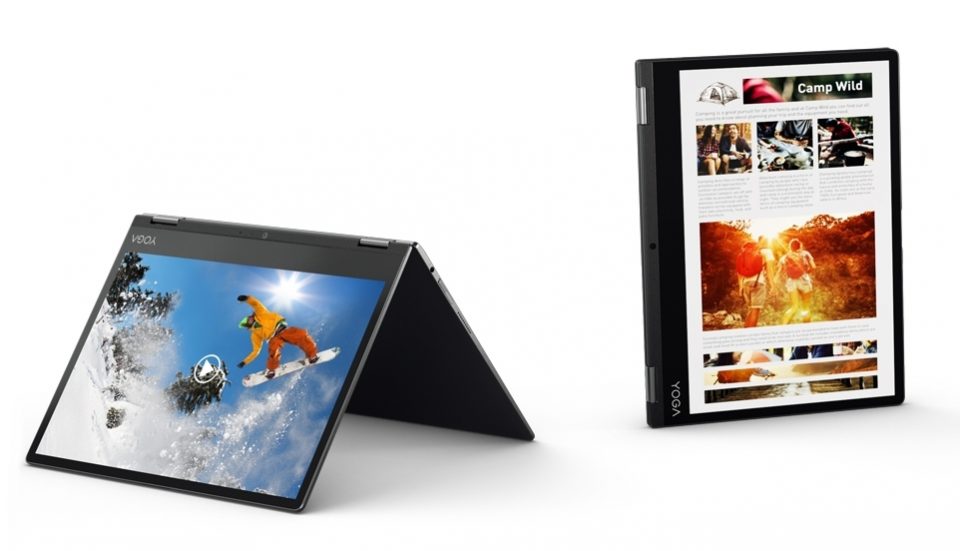 The latest trend in the tech world is 2-in-1 devices. Microsoft and Apple are the ones who have been making the biggest waves in this market niche, but another big name is coming. Lenovo is the one who wants to capitalize on the fact that 2-in-1 devices are highly popular. The Chinese manufacturer launched its first hybrid device on February 6th, the Lenovo Yoga Android.
As its name implies, the device runs on Google's Android operating system. Because it is a Yoga model, it features the same innovative design. The device is equipped with special hinges which allow users to adjust it to their liking. With modes such as "tent" and "tablet". Additionally, Lenovo seems to have designed this device to appeal especially to corporate users. The reason we are stating this is because it features access to the Google G Suite.
In terms of hardware performance, the 2-in-1 device is powered by an Intel Atom x5 processor. The chipset has been paired with 2GB of RAM and it's able to provide users with stable performances. In fact, it's quite impressive for a 2-in-1 device. Lenovo Yoga Android A12 ships with a large 12.2 inch touch screen which is just the right size for both a tablet and a notebook.
Leaving specs aside, what really makes this device special is its virtual keyboard. Lenovo decided not to equip the device with a traditional physical keyboard and opt for a more innovative one. The keyboard it uses is the Smart Halo Keyboard. This is basically a flat touchscreen keyboard that uses heptic feedback. All of this is possible through vibration tracking. What's even more interesting about this keyboard is that it is able to learn the way users like to type. Meaning that after a couple of uses, the keyboard will automatically start making word predictions, similar to a smartphone keyboard.
As previously mentioned, the device runs on Google's Android operating system. This is quite important since it provides users with more mobility and productivity features. The operating system gives users access to millions of different Android apps which will make the device even more fun to use. Even better, Lenovo is expected to soon upgrade the operating system to Android 7.0 Nougat.