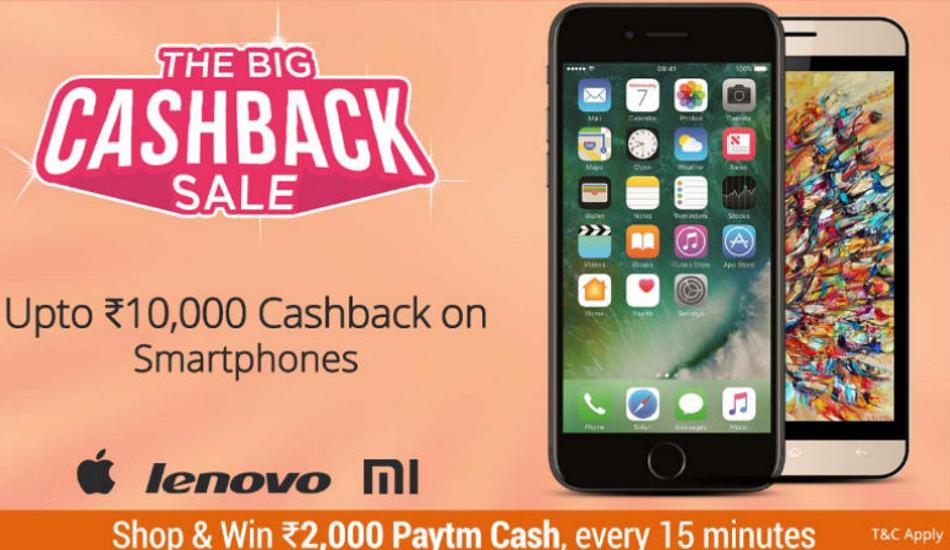 Paytm is hosting a "Big Cashback Sale" on its website offering discounts and offers over a varied range of products. The sale will take place from November 22nd to 24th and includes a bunch of cash-back offers in the form of Paytm money. The big deals on Smartphones include cashbacks on the Apple's latest iPhone 7, iPhone 6S, Samsung Galaxy S7 Edge, Gionee S6s and many more.
The iPhone 7 256GB is being sold for Rs 80,000, with a cashback of Rs 10,000 on purchase. The cashback amount will be credited to your Paytm account within 24 hours of the product being shipped. It's worth noting that there is no Cash on Delivery option available on this cashback offer. The iPhone 7, iPhone 6s, iPhone 6, iPhone SE, and even iPhone 5s are also available with this cashback offer – however the cashback amounts for different models are different, ranging from Rs. 10,000 to Rs. 3,000.
Another Apple product, iPhone 6S 128 GB is available at Rs 61,990 (Original Price – Rs 82,000) and one can also get a cashback of Rs 10,000 on top of this. The iPhone 5S is available for Rs 21200 plus Rs 3000 cashback.
Further, Asus Zenfone 3 Max is sold for Rs 12,998 with an additional cashback of Rs 500. Moving on to Samsung, Galaxy S7 Edge is sold at a 15% discount of Rs 50,900.
Gionee's latest S6s and Vivo's V3 Max is currently sold for Rs 15,888 (12% discount) paired with a 12% cashback, and Rs 20,940 plus an additional 10% cashback respectively.
Other offers include Apple's iPad Air 2 (Wifi) being sold for Rs 31,683 with a 15% cashback. You also get an 18% cashback on Kindle's Paper-White.
Apart from this, smartphones from Lenovo, Oppo etc. are also selling at discounted prices with additional cashback. Also, Paytm is giving away Rs 2000 Paytm Money every 15 minutes through a lucky draw.
Check out the complete information of the sale on Paytm's official website.