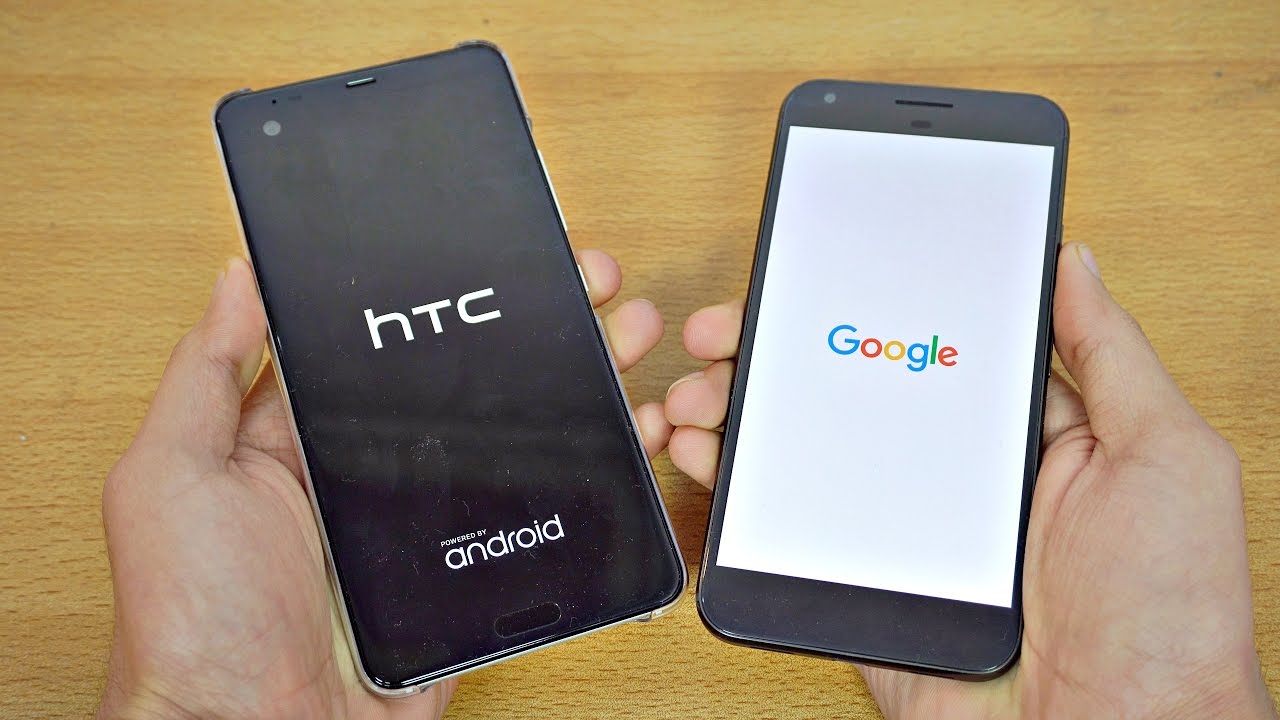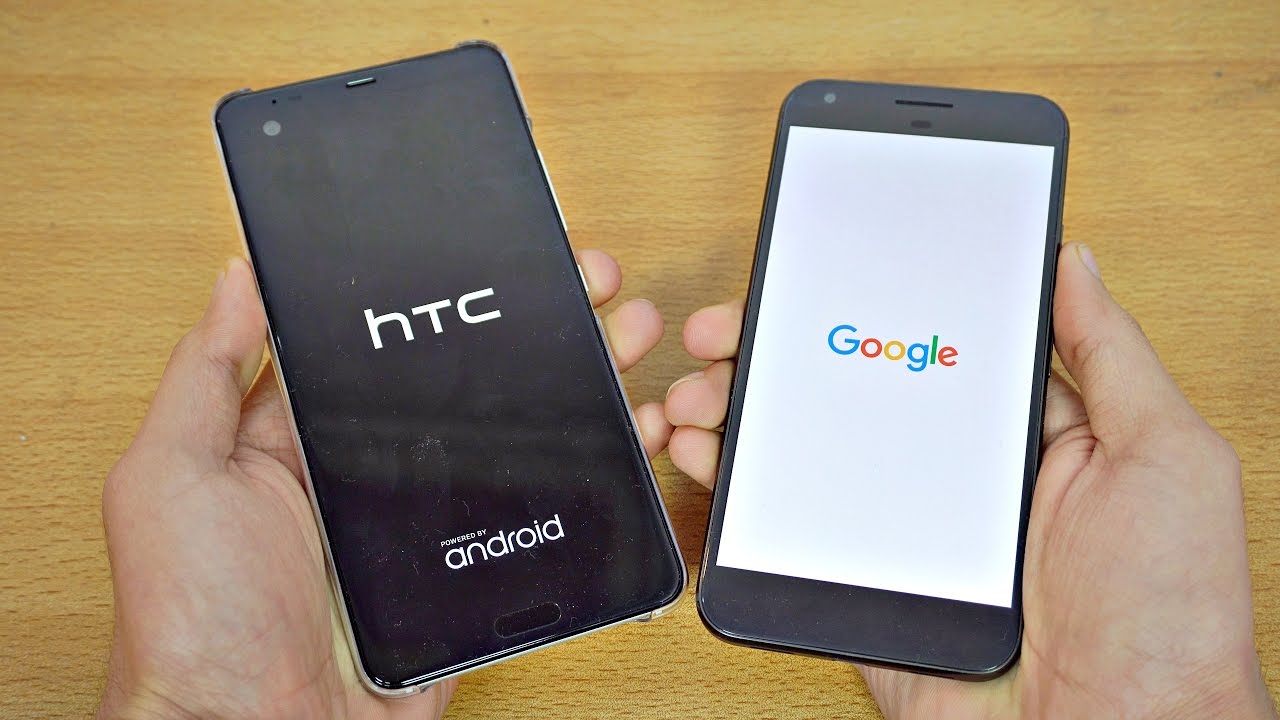 We have heard the war between iPhone and Samsung before and who's the best, but this time, new rivals show up. It's about the new phones from Google and HTC which are ready to amaze us with their new and improved qualities. Let's meet Google Pixel and HTC U Ultra! It is said about Google Pixel having the best rated camera on a smartphone and is also the first phone to have a built-in Google Assistant. HTC U Ultra strikes back with a unique display and its own personalized Google Assistant. Excited already? Let's see who wins the war as the best smartphone.
First, let's focus on the display of both smartphones. While Google Pixel has a 5' 1080 p AMOLED display and a pixel density of 441ppi, HTC U Ultra comes with a 5.7′ 2 K Super LCD 5 screen alongside a 2.05′ secondary display with a 160 x 1040 resolution. It's a reflection of yours with a new sophisticated fluid surface and on top of that can display app shortcuts, top contacts, event notifications and many more. Also, both displays have Gorilla Glass protection. Google Pixel has a Gorilla Glass 4 while HTC U Ultra comes with an improved version, Gorilla Glass 5.
So far HTC U Ultra is leading the battle but Google Pixel is right behind.
The Google Pixel design is premium, if slightly odd coming with a unique glass pane from the camera to below the fingerprint scanner on the rear. The metal and glass construction does provide a solid, smart finish, especially with the new striking "Really Blue" color. While this gives the Pixel a unique look, the huge bezels are somewhat bothersome.
HTC U Ultra brings a new fluid surface with beautiful outlines, thought to be your best reflection which is no surprise considering it is manufactured by Google. Observe the phone up close and you will appreciate the symmetrical construction made from glass and metal, as well as how the light reflects when you turn it different sides. To top Google Pixel, U Ultra comes with 3 striking colors: Brilliant Black, Cosmetic Pink and Sapphire Blue.
Even though Pixel shows off the unique display, U Ultra is by far more attractive with its distinctive design choices.
Pixel combines Google's hardware and software, including all of Google's favorite applications, to provide you with a fast, uninterrupted and easy-to-use experience. It's equipped with the Snapdragon 821 SoC, 4 GB of RAM, 32 / 128 GB internal storage and a 2,770 mAh battery.
HTC U Ultra has similar specs but tops with a 3000mAh battery, has the same Snapdragon 821 processor combined with 4 GB RAM and 64 GB of internal storage. They also come with the latest version of Android, Nougat 7.0 but both come with special features that will be discussed later.
U Ultra keeps its place as a winner this time too because of its feature of supporting micro SD cards up to 2 TB while Pixel is trying to compensate the lack of storage using its unlimited media backup via Google Drive.
They have not advertised Google Pixel as having one of the best rated camera a smartphone could ever have for nothing. It comes with 12 MP, a phase detection auto-focus, electronic image stabilization with an f / 2.0 aperture and a sensor size of 1 / 3.2". The front camera is equipped with 8 MP sensor and the same aperture for astonishing selfies.
HTC U Ultra also come with 12 MP Ultra Pixel with optical image stabilization, phase detection auto-focus, a dual-tone flash and an f / 1.8 aperture while the front camera exceeds the expectations with 16MP.
Once again, HTC U Ultra proves to be unbeatable against Google Pixel with its dual-tone flash, optical image stabilization and double MP for the front camera.
Special Features and skills
Google Pixel bonus skills:
The first phone with built-in Google Assistant, Google Pixel exceeds Siri or Cortana by being extremely smart. It can make reservations for movies, post a tweet, call your friends, open/close the music and so much more. So how is this any different than Siri or Cortana? The more you use Google Assistant, the more useful it will become.
Smart StorageUnlimited photo/video storage
As it was mentioned before, Google Pixel comes to the aid of his owners with the unlimited backup of all their media files to Google Photos, in HD without compressing the photos or the videos.
Pixel brings out a new app launcher and a new design for its icons. Furthermore, Google Now is replaced with the new Google Assistant.
If you had troubles before for diagnosing a problem, Google Pixel comes to your help with the 24/7 customer support. It has a sharing service which can help the tech-supports identify your problems.
Of course HTC U Ultra comes with its own special and unique features as well:
We present you HTC Sense Companion. The personal assistant who always learns about you and the things you do every day. What better than to have someone telling you that you get thicker and go early to work if the snow is announced. "Best of all, it's built to evolve and get to know you better in time" is what HTC guarantees us.
The new HTC Ultra has four high sensitivity microphones that captures sound in your audio and video recordings. Furthermore, HTC U Ultra and U Play come with an unique voice unlock and control mechanism that allows its users to securely unlock their phone with even touching it. It's the future of audio recordings. We all perceive the sound differently. That's why HTC created Usonic which is capable of letting the true sound reach your ears. It's like having a sound engineer on your phone. Now you can hear the details you missed. Even though it doesn't come with a 3.5mm audio jack and has a single USB Type-C out for data syncing and high-res audio, HTC U Sonic are compatible with USB-C headphones.
Ok, so we have discussed every single feature these phones have, but we still don't know what prices they have. Rest assured, we got you covered.
The HTC C Ultra has only one version that comes with 4 GB RAM and 64 GB expandable storage for the price of Rs. 59,999. The Google Pixel, however, has two versions of the phone – with 32GB internal storage for Rs. 57,000 and the 128GB for 66,000.
So, do we have a verdict? Do we know which one is the best? HTC U Ultra does have a better evolution regarding the storage, design, better front camera and other pleasant surprises while Google Pixel arrives with the fact that it is Google's spite image of what an Android should serve its owner, making the buyers favor it as well.