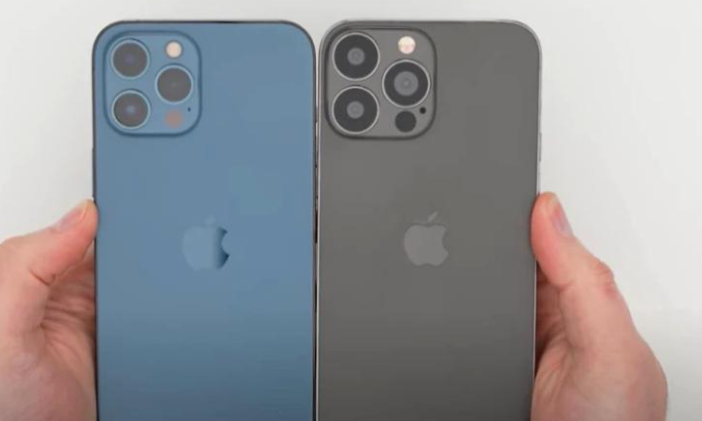 iPhone 13 Pro Max has been a hot topic at the rumor exchange for some time, enough details being known to create a realistic-looking model, demonstrated in a video presentation published on the Unbox Therapy YouTube channel.
Thus, the next iPhone would "recycle" many of the features of the iPhone 4S from 2011, such as the perfectly flat back and the side frame made of aluminum alloy, cut in straight lines to waste as little space as possible available for the screen. and internal components.
Of course, instead of a single solitary camera we have a square ornament that houses three large lenses. Fueling the illusion of a more supple construction than in reality, the camera trim is only partially raised above the perfectly flat back, the lenses framed with protective metal rings adding at least a millimeter to the total thickness of the phone. Overall, the camera arrangement fits quite well with the overall design of the case.
Most likely, made based on the sketches sent by Apple itself to the accessory manufacturers, the iPhone 13 Pro Max model is quite close to the appearance of the finished product, minus the functionality part.
Compared to the current flagship iPhone 12 Pro Max, the next model seems to have a much narrower "bangs", cut at the top of the screen. We can deduce this after positioning the audio grid, almost glued to the frame of the case. At the same time, the front camera appears more towards the center, indicating the use of a cutout about as deep, but up to 8.31mm narrower.
Returning to the photo configuration, iPhone 13 Pro Max would have an ultra-wide camera with f / 1.8 aperture, accepting more light than the one with f / 2.4 aperture available on the current model. Unfortunately, apart from using a 2um pixel sensor for the main sensor, the exact details are not known yet.
Apple will launch the iPhone 13 series in September, the new models coming equipped with the A15 Bionic chipset and AMOLED screens with integrated fingerprint sensor and 120Hz refresh rate (only the Pro and Pro Max series).