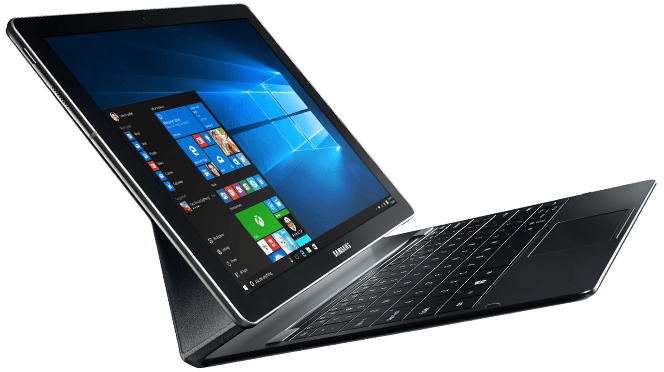 The whole tech world is enthusiastic about Samsung's upcoming MWC Galaxy S8 reveal. With that being said, it's pretty clear why Samsung's event has been already completely booked. Sadly, it looks like Galaxy S8 might not be unveiled during MWC. Recent reports are showing that the company is delaying the device's launch. On the bright side, Samsung might decide to showcase the upcoming Galaxy TabPro S2 tablet instead.
If the fact that Galaxy S8 is being delayed proves to be true, launching Galaxy TabPro S2 is Samsung's only viable option. Regarding the new tablet, rumors are pointing out that it will run on Windows 10. This will definitely be a first since all of Samsung's tablets have been running on Google's Android operating system. Additionally, the tablet is expected to ship with a large 12 inch Quad HD Super AMOLED panel. The hardware performance shouldn't be overlooked at all since Galaxy TabPro S2 will be powered by the latest generation of Kaby Lake Core i5 processor. The chipset will also be coupled with 4GB of RAM and a giant 5,070 mAh battery.
Fortunately, a FCC listing managed to be leaked a couple of days ago. Upon closely inspecting that leaked document we saw that there will be a special edition of Galaxy TabPro S2 that's going to feature LTE connectivity support. Although the tablet hasn't been confirmed to be launched at MWC, everyone is anxious to get a chance to get their hands on it.
Worth mentioning is that equipping it with Windows 10 is one of Samsung's best choices. This operating system will bring a huge array of features with it. Even better, Windows 10 will feature legacy support. What's interesting is that this tablet will be bringing some big competition to Microsoft's own Surface Pro 4. Both devices feature similar hardware specs and the same operating system.
While everyone is wondering why did Microsoft allowed Samsung to install Windows 10 on a tablet, the reason is pretty clear. Even though Galaxy TabPro S2 will steal some of Surface Pro 4's customers, it will increase the company's Windows 10 user base. In the end it's a win-win situation for Microsoft.