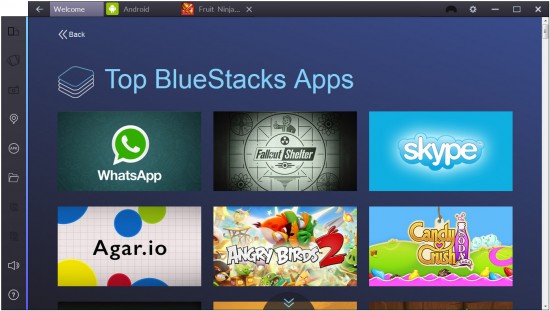 We think it's safe to say that Microsoft's Windows 10 is the most popular PC operating system in the world. Microsoft optimized Windows 10 to the point that it has no real competiton on the market, other than Apple's Mac OS. The only downside to Windows 10 is that it doesn't support Android apps. Well, there's a way around this. This is where Blue Stacks 2 comes in.
Blue Stacks 2
Blue Stacks 2 is an Android emulator software. In fact, it's the most successful Android emulator available right now. The software has just been released and it's is especially developed so that Windows 10 users can get access to Android exclusive applications. The previous version is renowned for being stable, fast and secure but the new Blue Stacks is even better.
The emulator prides itself with the fact that it allows Windows 10 users to get access to all the apps that can be found in Google Play Store. What's even better is that Blue Stacks 2 will be getting more enhanced along the way. The emulator's developers have confirmed that they are working on making it able to run multiple Android apps at the same time. This feature will undoubtedly help users to improve their productivity rates.
Although Blue Stacks 2 is mainly used on PCs, it can offer a similar Android experience on Windows 10 tablets as well. In fact, Blue Stacks 2 works best with devices that feature touch screen capabilities. This way, users will be able to browse through Google Play Store and apps the same way they would do on an Android powered smartphone. Nonetheless, a touch screen isn't necessary because Blue Stacks 2 works perfectly fine with a mouse as well.
We should mention that Blue Stacks 2 is only available for Windows 10 users. Mac users need to wait a little longer until their operating system is supported. Although they can still use the original Blue Stacks which supports Mac OS. In fact, the developers behind the emulator have announced that a Mac OS compatible Blue Stacks 2 will be coming in the upcoming future. Until then, the first Blue Stacks will suffice.