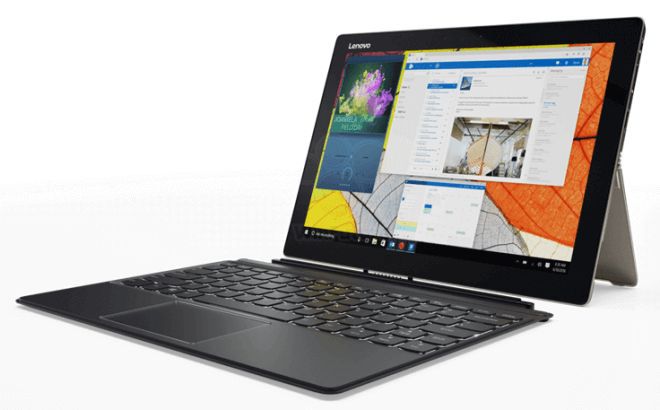 The Consumer Electronics Show brought to us some new and innovating devices, one of them being the highly anticipated Lenovo Miix 720 which is believed to stop Microsoft's Surface Pro in its tracks. This portable PC will come with a Lenovo Active Pen 2 and is the sole result of Lenovo's genuine interest on how users desire its devices to be.
Mobility is the key word when it comes to this device, as the tablet measures just 14.66mm and weighs 1.1 kg. It also includes the precision touchpad keyboard and at the same time offers a great screen. Speaking of screens, its QHD touch screen measures 12 inches and has a resolution of 2880 x 1920 showcasing some amazing clarity.
Its battery life was also not neglected as it confers its users 8 hours of uptime and is rechargeable via USB. Security wise, it features Windows Hello which can unlock the device via an infrared camera which recognizes your face.
The Lenovo Active Pen 210 has a sleek design and even comes with a shortcut button to open emails. Its over the top quality permits it to have 4096 levels of pressure sensitivity which add up to an amazing drawing experience. Some even compare it to writing on paper.
It offers USB-C connectivity via Thunderbolt 3 which adds up to extremely fast charging. Its keyboard is back-lit and offers comfortable 1.5 mm keys that add up to a premium experience and extreme ease when it comes to typing.
Its kickstand has also been improved as it now offers a 150 degree rotation with more rigidness added to it without losing its smoothness. The new Miix 720 comes with a price tag of $999 and is available in two color variants. The Lenovo Active Pen 2 will be sold separately at $59.99 and it should hit markets somewhere around April 2017.