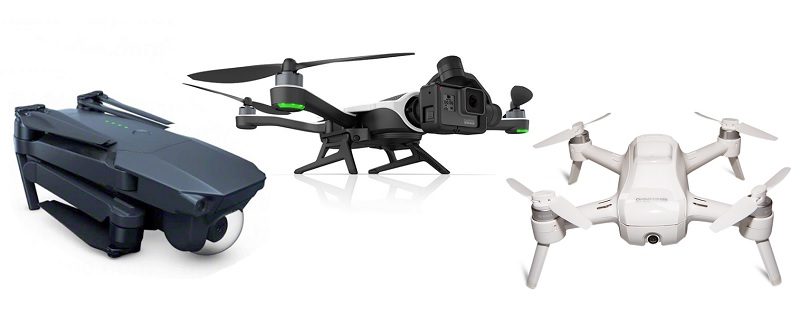 The GoPro Karma is the first ever drone created by them and it came as no surprise as they were highly expected to join this market. Action photography and drones pair extremely well and it made no sense for GoPro not to join the competition against the current leader who goes by the name of DJI with their Phantom line.
The top line DJI Phantom 4 is a beast of a drone being able to reach speeds up to 45 MPH with a flight time of 28 minutes with a full battery. It is able to film in 4K at 30 fps with some interesting functions such as avoiding obstacles and an automatic return to its owner.
However awesome the Phantom might sound, GoPro's Karma is nothing short of it as it is even more portable. It is so portable that it can even fit in a normal backpack.  This portability also comes with some downsides, one of which being it has only 20 minutes of flight uptime and less speed than the Phantom 4.
The Karma works very well with the GoPro cameras as they are the most desired action cameras on the market as of now. Not only is this drone innovative and highly sought after but it also comes at a fair pricing. It is available at around $799 if you own a GoPro camera and $1099 with the full package.
The GoPro Karma has basically the same filming capabilities and is also cheaper. The guys from DJI are sure to build a competitor for GoPro's drone and we can only wait and see how they will compare. They are both top of the line drone and are sure to soar the skies to wherever its users desires and at the same time providing some exciting footage to boast with to your friends.