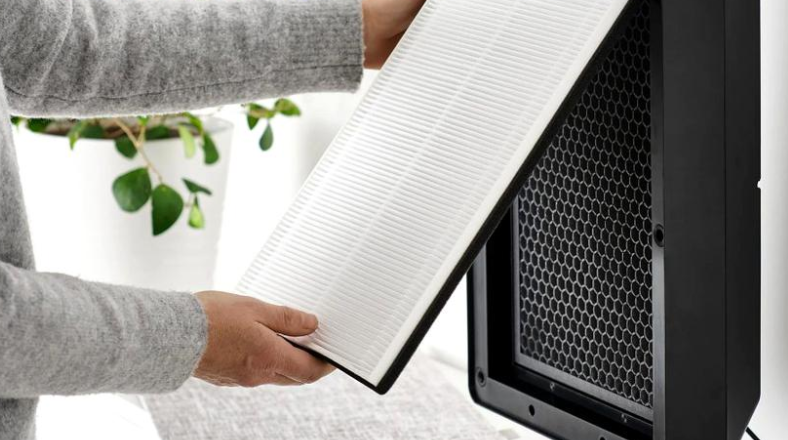 Ikea announces Fornuftig, its first air purifier. the famous furniture store chain has developed in the last few years in the field of electrical and electronic accessories. From LED bulbs to speakers equipped with Sonos hardware and Smart Home devices, the Swedish company offers something for everyone and even offers interesting and cheap alternatives to products such as Philips Hue or smart speakers. In the style of Ikea, its solution is much cheaper than the competition.
The Fornuftig purifier has a simplistic design
Fornuftig is a simple air purifier in both design and functionality. Unlike modern solutions, equipped with Wi-Fi connectivity, mobile applications and various advanced programs, the Ikea purifier is a three-stage device that can be equipped with one or two filters.
From the outside, Fornuftig might look like a speaker, but it has no audio playback functions. On the outside it has a textile surface, which hides behind a HEPA filter that promises to absorb 99.5% of particles, up to PM2.5 values. Such a device should provide air filtration for a room of 7-10 square meters. Optionally, a filter for odors or smoke can be added.
The device also has an indicator that lets you know when it's time to change the filter, but you won't receive notifications on your smartphone or other types of alerts.
The price of the purifier is lower than that of the filters of other devices of this kind
Interestingly, however, the Ikea Fornuftig purifier costs only $ 55 in the US, while the filters cost $ 10 and $ 5.5, respectively (for particles and odors). Thus, an entire air filter device from Ikea costs as much as the filters for other companies' purifiers.
Of course, you give up a little comfort, as the Ikea purifier must be turned on and off manually, but it is a solution that does not look bad at all and can be placed either on furniture, or on the floor or on the wall. In fact, the minimalist design recommends it for fitting in rooms decorated with furniture from the Swedish store.