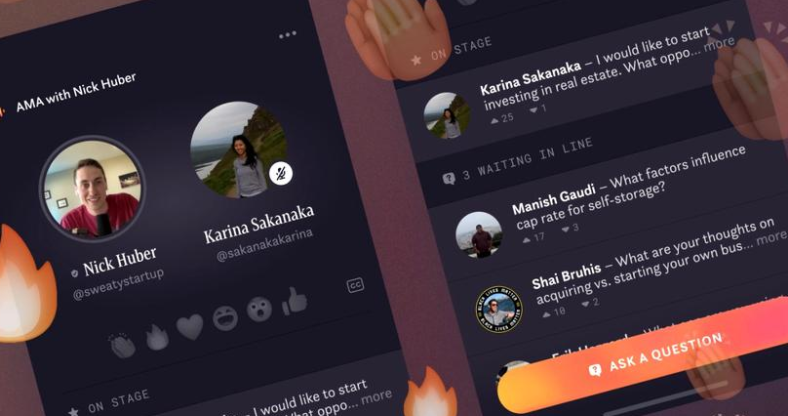 Facebook has been working for several months on an alternative to Clubhouse, the social network based on voice chat rooms. It seems that this alternative now has a name and is called Hotline. At the moment, this project is marked as an "experiment", but it is clear that the company's plans for an audio chat platform are bigger than a simple application separate from the rest of the Facebook network. The application can now be tested publicly in certain regions and seems to try a few different things compared to Clubhouse.
Hotline uses the Clubhouse model, but changes some important aspects
Hotline is a new application developed by NPE Team, the team that creates all kinds of software experiments within Facebook. Currently, the app is only available in the browser and seems to be a combination of Instagram Live and Clubhouse. This is because it allows some "hosts" to have a live audio chat, but it also allows those in the "public" to ask questions, either through a text chat (something that Clubhouse does not offer), and using voice directly.
Another major difference from Clubhouse is the possibility for the "hosts" to turn on the video cameras on the devices, in order to have a visual presence during the conversations. The web interface for Hotline is quite different from the Clubhouse. The speakers have a separate space in the application, on the left side, while on the right side appears the chat box and the list of those who are listening or waiting to enter the conversation.
Somehow the Hotline seems to be centered around Q&A audio events, where those on the "stage" are available to the audience for answers to various questions. There is even the possibility to react, as a member of the audience using emoji icons to what is being said at any time, or to questions asked by other listeners.
Facebook also focuses on issues other than audio discussions
The hotline already has a fairly well-developed room moderation component, with the ability to delete text questions or remove unwanted people from the rooms. All Hotline cameras also seem to be covered by the regulations of the Facebook social network. This is probably because it is very possible that at the end of this experiment, Hotline will be integrated directly into Facebook or Facebook Messenger.
Another advantage over Clubhouse would be the possibility to save the sessions at the end in MP3 or MP4 format, so that they can be uploaded on other social networks such as Facebook, Instagram, YouTube or TikTok. Also, the rooms do not seem to have a limit of people.